Papua New Guinea Tracts Delivered!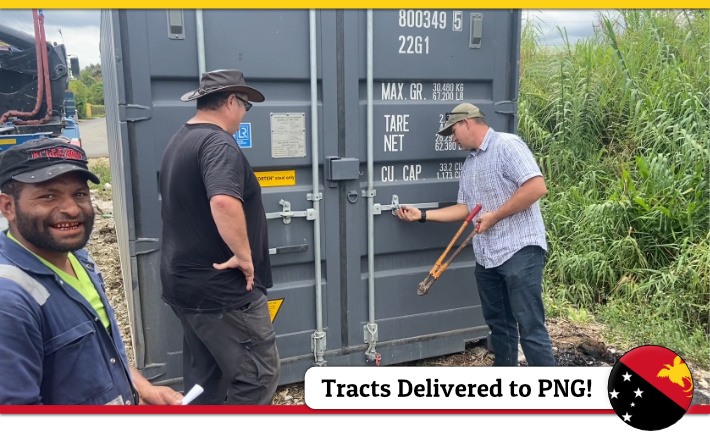 The one-million tract shipment to Papua New Guinea has safely arrived! Missionary Chad Wells has begun the process of getting them to the hundreds of pastors who depend on him for evangelism materials. Thank you for helping us meet this need! People are already reading them! Read the full report to see a video and pictures.
• • • • • •
Missions Outreach for Mexico (and beyond)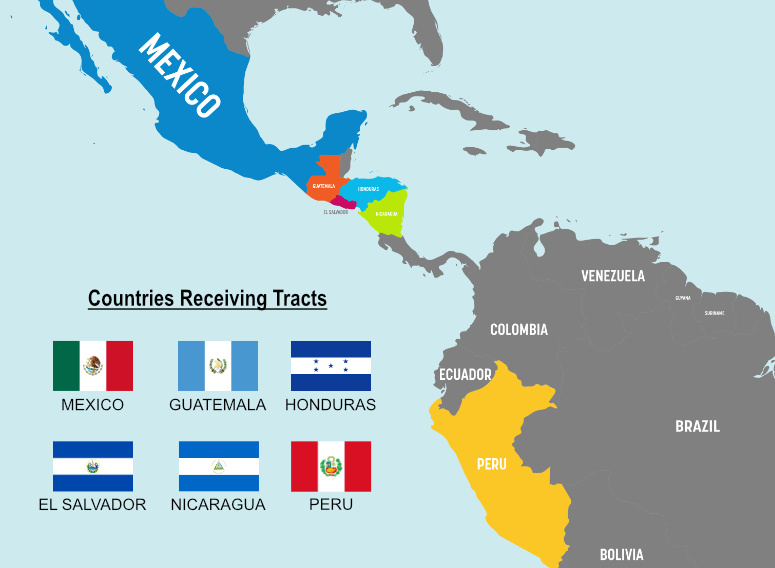 Tom Sloan, a third-generation missionary to Mexico, has asked us to join him in making a big push for the gospel in Chiapas, Mexico. Sloan operates Compassion Broadcasting (CBI), a network of radio stations devoted to preaching the gospel. He wants to combine that ministry with mass tract distribution of 2 million tracts to bring more of these people to Jesus.
Funds have already been received for the first million of these tracts. Will you help us finish?
• • • • • •
More Missions Projects:

Thailand/Burma
Missionary Pat Caspary received 20,000 Thai and Burmese tracts for use along the Thai/Burma border. Refugees there live in desperate conditions. Chick tracts are included in packages of rice and other needs to help them survive. They need Jesus!
The children in the photo below are at an orphanage/children's home on the border of Burma & Thailand, and are often Burmese children who have been left behind as people fled the violence or died from opium.
The children are all taught the gospel, and they do outreaches with the kids all taking part.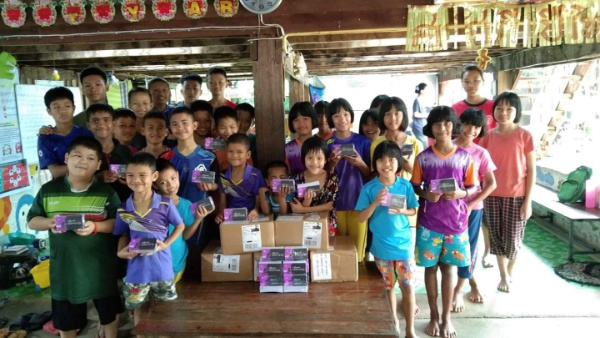 • • • • • •

Philippines
Many outreaches continue here, with the Mission Fund sending hundreds of thousands of tracts. Pastors of small churches all over the islands are taking them to the streets, the homes and businesses to spread the gospel. Missionary Bruce Hunsaker, whose number is printed on many of the tracts, reports getting many phone calls from people with questions about the gospel. It's working!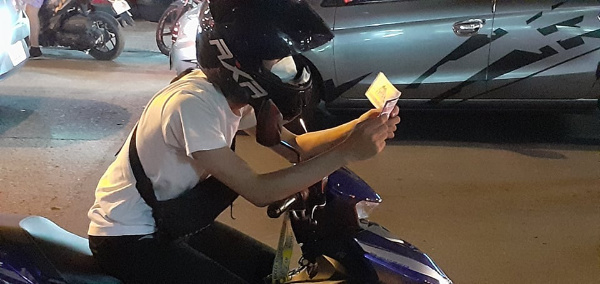 • • • • • •

Scotland
Missionary Jim Van Voltenberg just received 15,000 Chick tracts. The United Kingdom is the birthplace of our King James Bible, but now it is spiritually dark.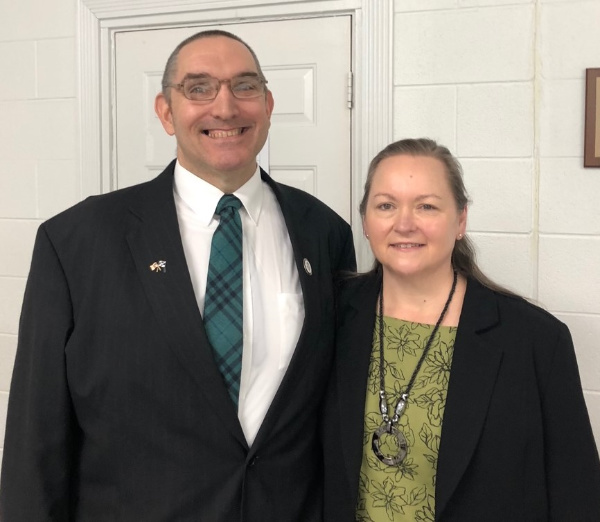 • • • • • •
Germany
Missionary Richard Weimer received 22,000 Chick tracts for a street outreach. Working with Brian Green of Seed For the Cities they will spread these in Leipzig, the "Gothic Capital of the World."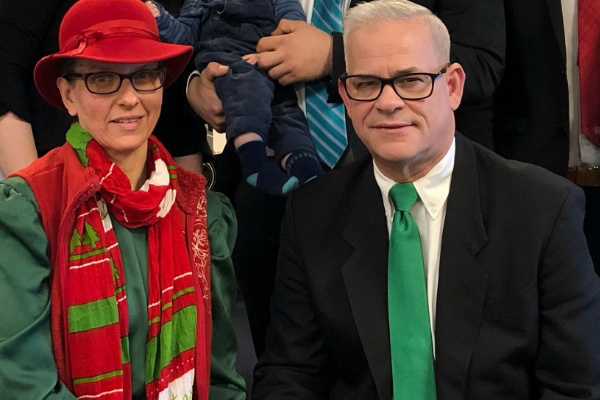 • • • • • •

Netherlands
Missionary Eric Kreh is finding that people are amazingly receptive to Chick tracts with their gospel message in the north of this European country. The Mission Fund just sent him 10,000 more.

Israel
A large shipment of Hebrew and Hebrew/English tracts arrived just as this report was written. When you pray for the peace of Jerusalem, don't forget to pray for the hearts of God's chosen people.

Ukrainian Refugees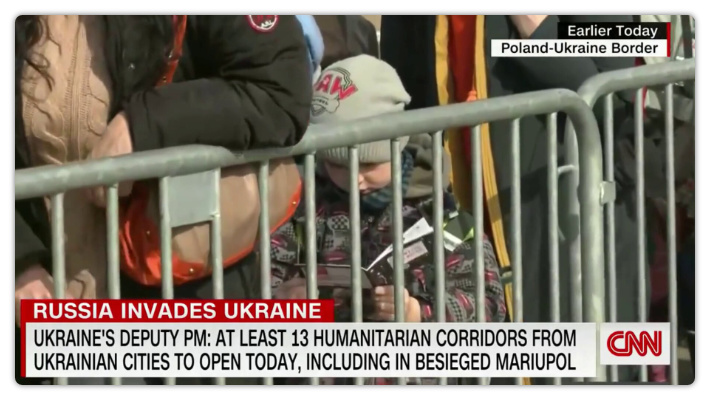 We were grateful to be able to immediately respond to emergency requests from missionaries in Europe for thousands of Ukrainian tracts for these people fleeing the violence in their country. Despite Tragedy in Ukraine, Chick Tracts Help Reach Lost Souls
The image above, captured from a live CNN TV broadcast on March 12th, shows a Ukrainian refugee reading a Chick tract while fleeing the war in Ukraine.
---
Many Christians want to provide Chick tracts to missionaries. . . We can help!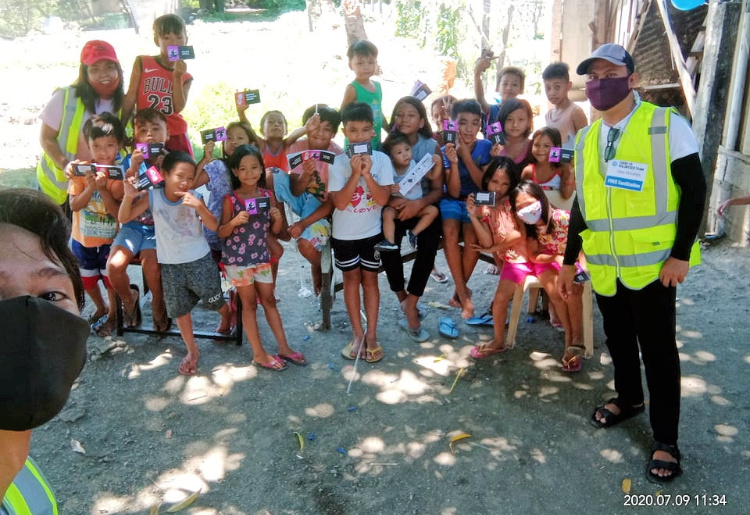 We maintain an account called: The Chick Missions Fund
Although we are not legally structured to give tax-deductible receipts, we definitely know how to get literature into missionaries' hands. If you would like to help extend the hands of a missionary with Chick tracts, please send your donation to:
Chick Missions Fund
Chick Publications
PO Box 3500
Ontario, CA 91761
100% of the funds you send to the Chick Mission Fund are used to ship literature to missionaries.
We receive requests frequently from missionaries who need your help.
Hundreds of thousands of tracts are now being printed for additional projects, with more requests coming in from missionaries every week!
WILL YOU HELP?