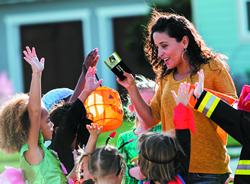 Halloween is a wonderfully, easy time to break your own kids in on witnessing with tracts. One large family set up a rotation of members who would next answer the doorbell. That way each got a face-to-face contact with the other kid who was standing at the door. When they saw how easy it was to hand a tract to someone, they became more bold in one-to-one witnessing.
One boy in the family happened to meet another boy at school who had received a Halloween tract. The boy told him that, when he read the tract, he got saved and showed the tract to his dad. Now his dad was taking him to church.
Another family did the reverse process of making "trick or truth" bags of tracts and candy. Instead of waiting at home for the kids to come, they took the bags to the neighborhood. When they knocked on a door, instead of asking for treats, they would say, "trick or truth," and hand the homeowner a bag containing the tracts and candy. The surprised adults would take the bag with a chuckle. "It was great fun and a terrific opportunity for our six children to be involved in sharing the gospel," the parent said.
So many churches are no longer training people in witnessing. We have to find every way possible to introduce the next generation to the joys of soul winning. Younger children are more bold and free from self consciousness, so we need to get them started early in sharing the gospel. When they are older, they will remember how easy it was with good gospel tracts.