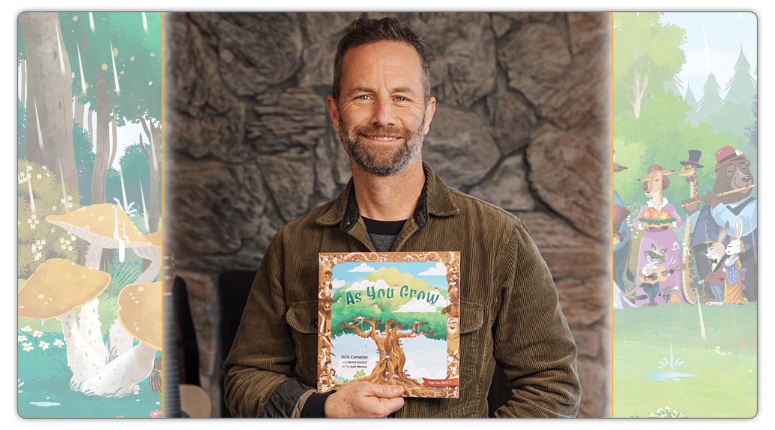 Actor and author Kirk Cameron with his new book, "As Your Grow". | Image credit: Brad Schwartzrock
----------
Libraries that allow 'drag queen story hours' should also give him a chance, says actor and author Kirk Cameron.
• • • • • •
More evidence of Satan's infiltration of the public libraries surfaced this week. Christian actor and author, Kirk Cameron decided to counter the appearance of the homosexual drag queens with the gospel and wholesome Biblical teaching. He and his publisher, Brave Books, sent applications to libraries across the country for permission to hold "story hours" precenting his faith-based, family-friendly new book, "As You Grow".
Cameron and his publisher are reacting to numerous recent stories of drag queens allowed a library "story hour" to feature scantily-clad men grooming children for their perversity. Story hours are common programming for many local libraries to feature a variety of topics or publications of interest to the community. This has been a useful way for a variety of authors to present their works to the general public.
But it is increasingly apparent that these supposedly independent local libraries have been infiltrated by radical leadership. As pointed out in the July/August issue of Battle Cry, the American Library Association, with over 50,000 members, recently elected a lesbian neo-Marxist as its head. And parents are discovering that similar radicals have managed to get placement on local library boards.
So far, over 50 public libraries have failed to respond or have outright rejected Cameron's efforts to schedule a story hour to present his book. A library worker in Rhode Island told Brave Books,
"We are a very queer-friendly library. Our messaging does not align. You can fill out the form to reserve space —but we won't run your program."
That library's website promotes a "Queer Umbrella," which in other words means a "club and safe space where teens can learn, discuss, and connect over queer history, art, community resources, and more."
One California library that hosts a number of homosexual events responded politely, "I'm really sorry, but we are not interested." Yet that same one provides a free help clinic where attorneys and volunteers come to assist anyone who wishes to have their name and gender marker changed on identity documents such as birth certificates and driver's licenses.
So far, Cameron's publisher has contacted over 50 libraries and have not received a single "yes" from any of them. Another library in Indianapolis turned them down stating that their current focus was "racial equity."
One can't help but wonder what would have happened if Cameron had called these libraries, told them he was a drag queen, and then asked if he could come share his children's book with the toddlers. Then, they might have welcomed him with open arms!
Cameron commented on the rejections:
"This is proof that more than ever, we are getting destroyed in the battle for the hearts and minds of our children." He also observed, "Publicly funded libraries are green-lighting gender-marker and name-change clinics while denying a story time that would involve the reading of a book that teaches biblical wisdom. How much clearer can it get?"
It appears that the local library systems have joined the public education field in systematically grooming the next generation for involvement in sexual perversity condemned by God as an abomination. The only hope is a grassroots uprising of parents and churches exposing this social cancer and replacing it with godly teaching.
The power of gospel tracts has been demonstrated in similar "great awakenings" in history. Systematic saturation of a community with gospel literature can help our neighbors realize that we are headed for judgment by a holy God.
The Bible history is quite clear in God's jealousy for the souls of the little ones who come up in our families. It appears to have been the trigger that sent Jonah to warn Nineveh of impending judgment. God said that over 100,000 people there did not know their right hand from their left, which indicates that they must have been children.
Based on what we see today, we can only imagine what was going on in Sodom and Gomorrah prior to the rain of fire.
Soul winners, it's going to take a huge effort to buy us more freedom to get the gospel out!
---
VIDEO: Kirk Cameron Discusses Woke Libraries Who Have Rejected His Faith-based Book.