A great big "Thank you!" to all Chick supporters who gave to make the Chick Mission Fund possible. We continue to get requests from missionaries all over the world. They have left their homeland and given all in order to take the gospel to the world, and all they ask from us are the tools to make them effective. Thank you for supplying them.
---
Mexico
Missionary Mike Wallace writes: "Chick tracts get read! We live on the edge of Mexico City and we are so very grateful for Chick tracts. People take them, read them and we have numerous testimonies of people getting saved by reading them. Sometimes I will sit down with someone after I see they have finished reading the tract and with their hearts well prepared by the gospel, I can more easily lead them to Christ."
Also from Mexico, Missionary Timmy Oakes wrote: "Our church, Cuidad de Refugio, here in Guaymas has been focused on evangelism... Every week a different group from the church goes out in the neighborhood to witness. We have been sharing the Chick tracts y'all blessed us with. We have also been taking prayer walks. This culminated with a 3 day revival this past weekend. We're all very excited that 12 people received Christ, including 2 police officers, over the three days... Thank you for the blessing of having the right tools to work with."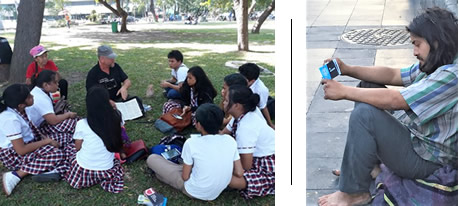 ---

Philippines
Missionary Bruce Hunsaker organizes tract outreaches with many churches on these islands. When the tracts are on the streets, so many people just stop right there and start reading. Young people especially are ready to hear the Gospel after they are given a Chick tract. In this picture, Hunsaker explains God's love to a group of students from a local school.
The Mission Fund has sent more than 500,000 tracts so far this year for the many huge outreaches organized by this busy missionary, with another 150,000 on the way. Workers keep crying for more, because of the great openness in this nation. Thank you for helping while the door is wide open!
---

Kenya
"Mama Jo" Smith, the wonderful missionary who refuses to retire, writes: "The last batch of 8,000 tracts were gone within just a few days I had people actually waiting on me to stamp the tracts they were wanting... I stamped around 10,000 in just two days... going to bed very late, but worth it!
"The tracts have now gone into Tanzania! They are spreading like wildfire and I am told in the areas where they are being passed out that people love them and are begging for MORE!
"Caleb, one of the graduates from our very first Bible School class has started a second church where he is working and they love the tracts and are learning so much from them. My heart has always been to reach those in the interior of the country and now THAT is where many tracts are going! Once I went on a mission to the interior where a man told me, 'Mama Jo, We love God, but no one has ever told us about JESUS!' That broke my heart, but now, through Chick tracts, we ARE reaching many of these precious souls!"
---
Many Christians want to provide Chick tracts to missionaries
We can help!
We maintain an account called: The Chick Missions Fund
Although we are not legally structured to give tax-deductible receipts, we definitely know how to get literature into missionaries' hands. If you would like to help extend the hands of a missionary with Chick literature please send your donation to:
Chick Missions Fund
c/o Chick Publications
PO Box 3500
Ontario, CA 91761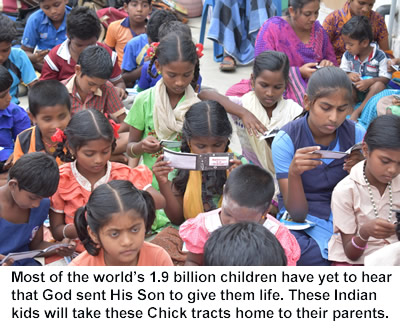 100% of the funds you send to the Chick Mission Fund are used to ship literature to missionaries.
In just the first three months of this year, your giving had made possible the shipment of 1,300,000 Chick tracts for these countries:
• Argentina • Guyana • Netherlands • Belium • India • Papua New Guinea • Canada • Israel • Philippines • Chile • Italy • Romania • Colombia • Japan • Switzerland • Croatia • Kenya • Ukraine • Ethiopia • Madagascar • United Kingdom • Guatemala • Mexico
Hundreds of thousands of tracts are already committed, with more requests coming in from missionaries every week!
Will you help?