Ethiopia
Missionary Ray Hoover, a ten year veteran in Ethiopia, is now back on the field following a temporary interruption for back surgery. We have begun shipping 20,000 Amharic tracts he requested. The picture above was taken before Hoover's recent back surgery.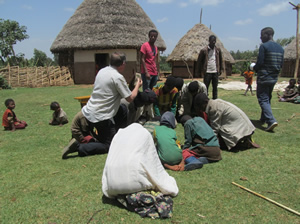 ---

Argentina
Many thanks to all who have risen to the task and supported the upcoming outreach at the Youth Olympics in Argentina. Over 270,000 Chick tracts have been printed and shipped in nine languages to the freight forwarder who is loading them into the container that will go there. This project is at the request of Missionary Tom Gaudet, who is mending following surgery. These tracts were specifically requested by the pastors in Argentina, because they know how effective they are. This is a chance to push the gospel into many countries, as visitors take them home with them.
---

Israel
Dispersed throughout the world, Jewish people are receiving Chick tracts first in Israel, and then on every other continent. In Israel itself, we have worked for years with a missionary who hands them out by the thousands and also is able to place them in mailboxes (it's legal there). Tens of thousands of tracts have been shipped to him and more printed there in Hebrew. He has also used tracts in Russian for new immigrants.
Elsewhere, we work with Dr. Daniel Fried of Hope of Israel Baptist Mission, supplying them with hundreds of thousands of Chick tracts in multiple languages for their worldwide outreach to God's chosen people. We obscure faces in pictures they send of Jews who come to Jesus because of the risk of persecution. In a recent email, he wrote "We had a tremendous response from Jewish people and even Israelis to the gospel as a result of the Chick tracts... Many Jews have gotten saved as a result of this rally and the literature you gave."
---

Italy
You've helped us supply Missionary Chris W., who works among U.S. military and Italian villages. He wrote: "I think that they are the best received tracts I have ever used and I have been on the mission field for over 10 years. We have also handed out many of the same tracts but in English to the military folks stationed here at the air base. We do thank God for your help in supplying tracts so that we can spread the gospel here in Italy. We have seen several people saved in the past few weeks and 7 people baptized."
---

Papua New Guinea
Another 20,000 Pidgin tracts are on the way to Missionary Eric Fair in Mt. Hagen, Papua New Guinea. This country has become very open to the Gospel. As these tracts are added to the Bible distribution being done by BIMI in the country (with government approval) we know they will "stir the pot" and lead many precious people to eternal life.
---

Kenya
We continue to supply tracts to Missionary Joetta Smith as she helps get local pastors involved in evangelism. She writes: "We were SO pleased when it was said that 'Those tracts are changing people's lives.' One fellow is now coming out of the Catholic church because of reading the tracts and these guys are really 'on fire' to get the tracts out there for everyone. The tracts have gone far and wide." More than 70 years old, "Mama Jo" continues to teach these pastors sound doctrine and push them to obey the Great Commission. There is no retirement for her!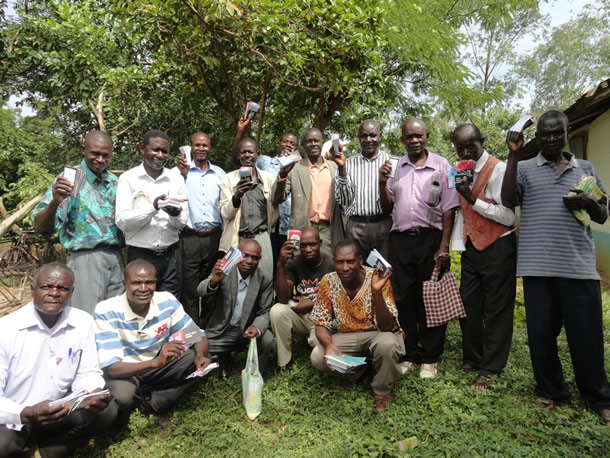 ---
Many Christians want to provide Chick tracts to missionaries
We can help!
We maintain an account called: The Chick Missions Fund
Although we are not legally structured to give tax-deductible receipts, we definitely know how to get literature into missionaries' hands. If you would like to help extend the hands of a missionary with Chick tracts please send your donation to:
Chick Missions Fund
Chick Publications
PO Box 3500
Ontario, CA 91761
100% of the funds you send to the Chick Mission Fund are used to ship literature to missionaries.
We receive requests frequently from missionaries who need your help. Just during recent months, shipments have been provided for:
• Kenya • Papua New Guinea • Canada • Philippines • Ethiopia • Romania • Argentina • Switzerland • India • Netherlands • Italy • Ukraine • United Kingdom • Columbia
Will you help?