Greg Watford shares some great success stories of saturation with Chick tracts in Louisiana. At 50 years old in February of 2017, he simply asked the Lord to use him. Jesus answered with "a burning desire in my heart for lost souls," he says.
So, he went looking for people, and found a lot of them at the local Capital Area Transportation System (CATS) bus stops. He also found that the people who are waiting love to read Chick tracts. Six years and tens of thousands of tracts later, he now reports: "126 souls have been added to the Lord's Kingdom." Of course, those are just the ones that he knows about.
He tells the story of one tract that went home with an unsaved man only to be ignored until the man's father became terminally ill. On his way out the door to visit his father in the hospital, he tried to think what he could do to cheer up his dad. Remembering the tract, he went back and put it in his pocket.
His dad was too ill to read it, so he read it to him. When he came to the decision page he asked his dad if he wanted to commit his life to Christ. His father gripped his hand and they both prayed their way into the Kingdom. The father died a few days later.
Greg pointed out that: "By giving Chick tracts there [at the bus stops], we can reach the whole city for our Saviour." They will take the tracts to their homes and businesses all over the area and sometimes even out of the area. And a Chick tract often gets more than one reader.
Greg's dad wanted to help but could not handle the walking. His wife suggested that he check with a local supermarket to see if they could hand out tracts in front of the store.
Three years later, 20 supermarkets in the area have said yes and he had to involve nine other churches to handle the opportunities. "Just a few weeks ago we gave out over 3000 [tracts] in a couple of hours," he says. Overall, his saturation campaign has seeded hundreds of thousands of copies of the "good news" into the area.
Greg says that one man found a copy of the tract This Was Your Life in a water puddle. He took it home, dried it out and read it —and got saved.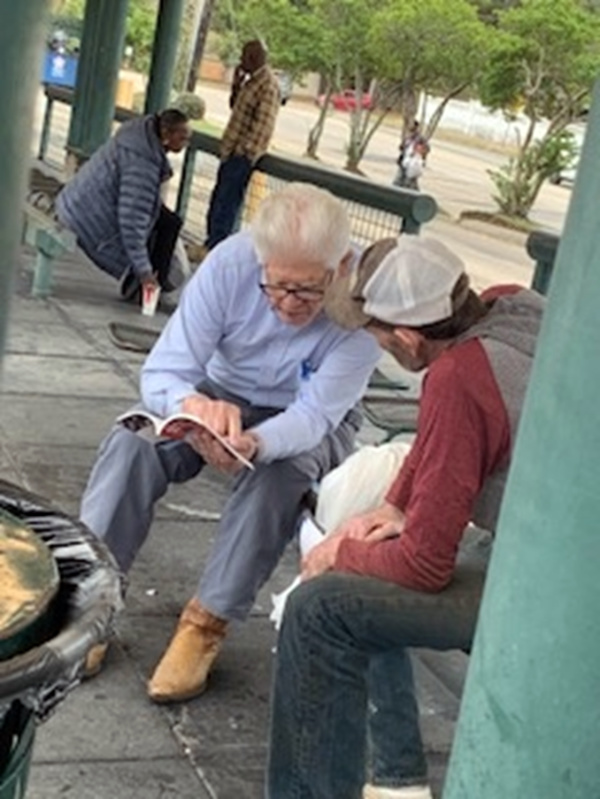 PHOTO: Robert shares the gospel with a man who just was released from jail.
• • • • • •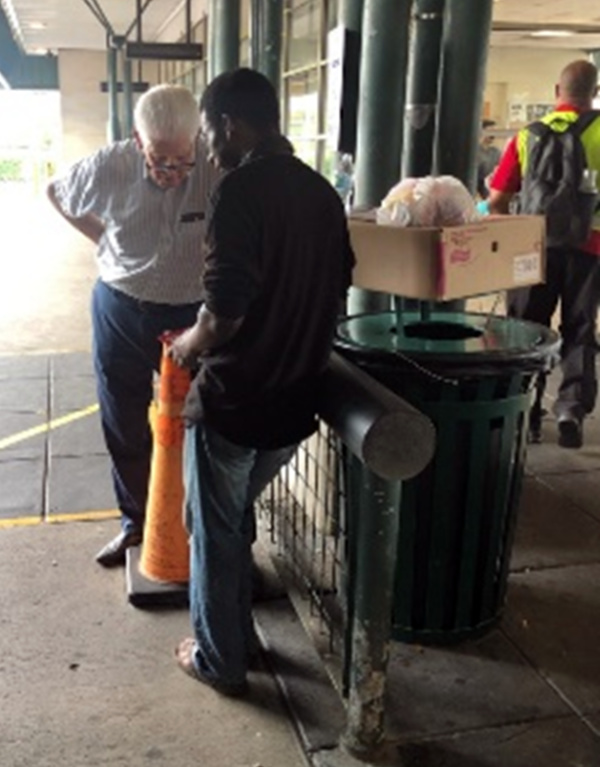 PHOTO: Robert tells us that this man received Christ after hearing the gospel.
• • • • • •
The photos in this article show the fertile witnessing field that Greg and his team have found at the bus stops. It is an ideal atmosphere because most people are just playing smartphone games or meandering around waiting for their ride and welcome any diversion.
They quickly get engrossed in the engaging stories in Chick tracts.
With Greg, it all grew out of a "burning desire for lost souls." Others caught the vision and that corner of Louisiana will never be the same. Chick Publications has received other stories of Bible believers with a burden to saturate their community with the gospel.
Anyone who wishes to contact Greg for more information can reach him at (225)-235-3627 or by e-mail at gregwatford@cox.net.