Thanks to your generous gifts to the mission fund, we have been able to provide missionary Joshua Yun and his team with over 200,000 Chick tracts in 2022. They have been instrumental in helping him expand his ministry to other countries and reach lost souls.
Missionary Joshua Yun writes:

Philippines
There is great news! Amazingly by the grace of God, the Lord has opened the door in the University of Manila city to witness Christ and to distribute Chick tracts! One of our brethren in the Philippines has worked 10 years in the University and he has been elected as the representative of workers.
His first request to the President of the University as the representative was permission to witness Christ and to distribute Chick tracts in the University... The Lord moved the heart of the President, and he allowed him and the church brethren to witness Christ and distribute Chick tracts to the students when they are not in classes. Praise the Lord!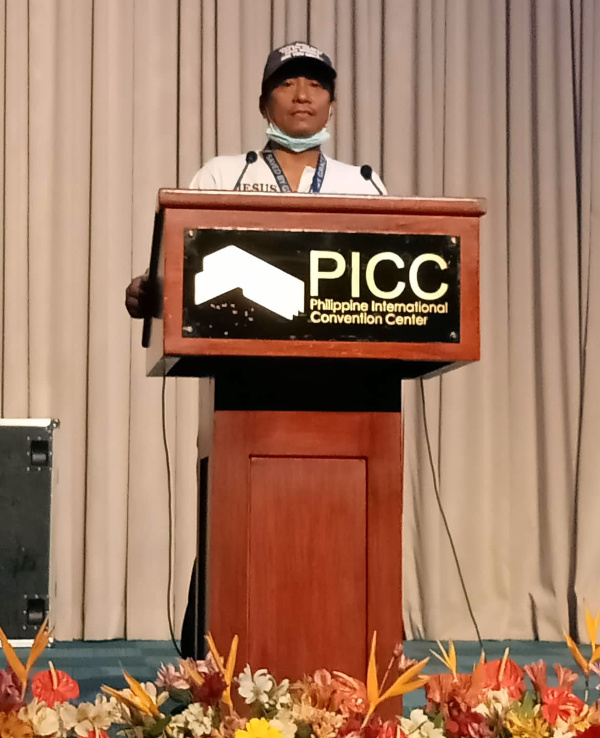 PHOTO: Preaching the gospel at a University graduation ceremony.
• • • • • •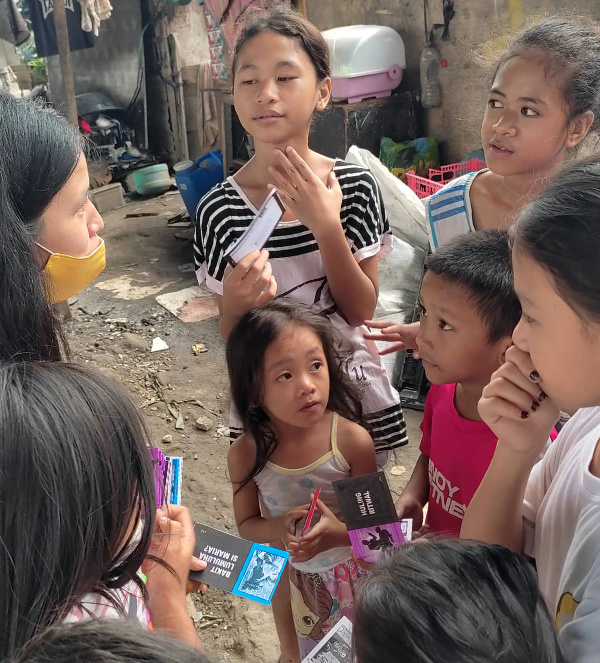 PHOTO: Kids receive the gospel with the help of Chick tracts.
• • • • • •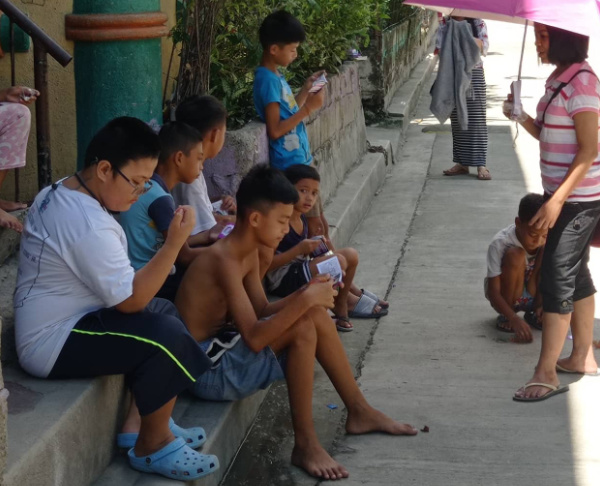 PHOTO: Several kids reading Chick tracts on the steps.
• • • • • •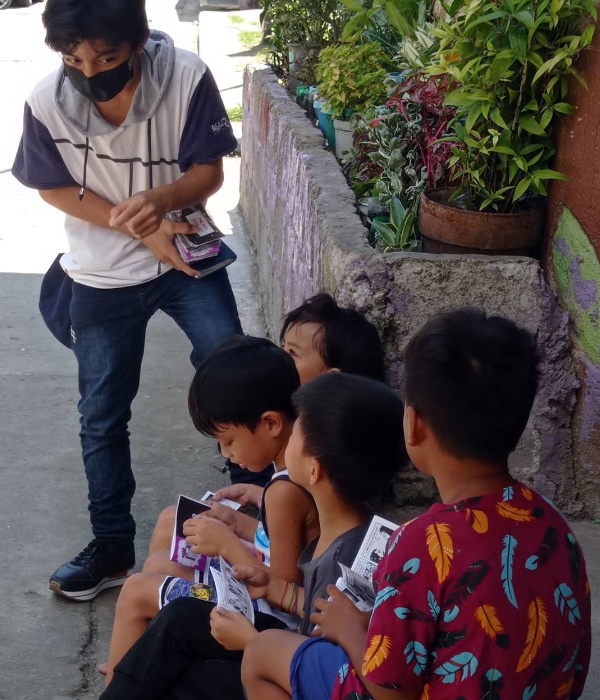 PHOTO: "Do you know who Jesus is?" More kids receive the gospel in their neighborhood.
• • • • • •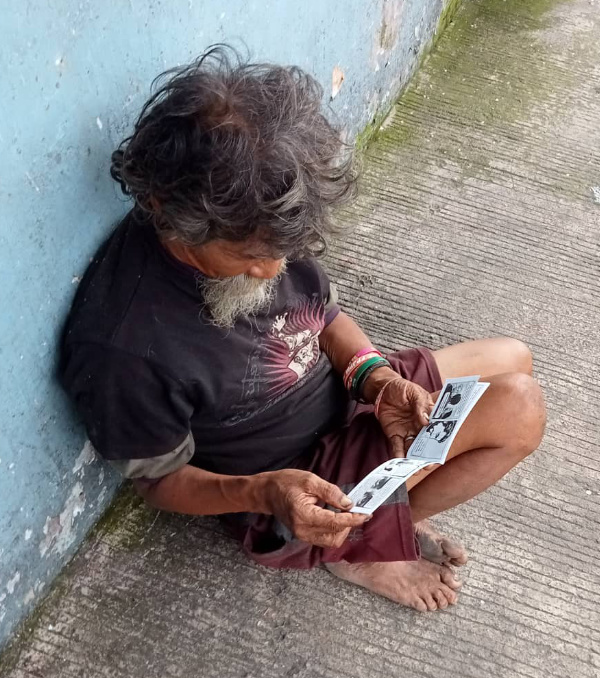 PHOTO: Everyone reads Chick tracts!
• • • • • •
Yun continues:...

South Korea
By the grace of God, we have more soulwinners and street preachers now in Korea.
I was our mission's only gospel preacher when I started it in Korea, but now we have seven gospel preachers and four teams preaching the gospel and distributing the Chick tracts in Korea. All our soulwinners and preachers love Chick tracts and we use them for our tract distribution.
Moreover, we have supplied Chick tracts to three other Bible believing churches in Goryeong province, Gyeongju city, and Cheonan city upon their request. Chick tracts are actively being distributed around Korea thanks to your support.
Last month, around Halloween, there was a terrible accident called "Seoul Halloween Stampede" in Korea. Sadly, Halloween became a trend among young people in Korea and they tend to gather in Itaewon, known as the most international place in Korea. Around Halloween, 158 people died and 196 people were injured in the accident because of the stampede.
One of the missions of our church is reaching out to other nationals in Korea, and our church is located right next to Itaewon. We've been preaching the gospel and distributing the tracts there for months. I hope and pray that some of the people that died in the stampede had heard the gospel and read the Chick tracts we have been distributing.
---
Many Christians want to provide Chick tracts to missionaries. . . We can help!
Tract requests from missionaries continue to flood in! We have many more requests than we have funding for so we have had to tell some missionaries that they will be put on a waiting list.
We humbly ask that you consider giving to the Chick mission fund for your year-end giving. 100% of the funds you send will go to provide free tracts to missionaries worldwide.
Thank you for what you've already done to help these missionaries reach lost souls with Chick tracts. Together, we are making a difference for the Lord!
COMING UP
Missionaries in Oaxaca, Mexico are asking for one million Chick tracts! They supply Bibles and tracts to 30 churches in their state, 12 churches in another state, and have been contacted by a group of 300 churches in Guatemala looking for gospel literature. An American transport ministry has offered to haul the literature all the way there for free. What will you help us do for them?
We are preparing a second container (1.3 million Chick tracts) for the Philippines. Funding is still short for this project. More than 90 ministries are waiting for ammunition!
More missionaries keep asking for tracts!
• • • • • •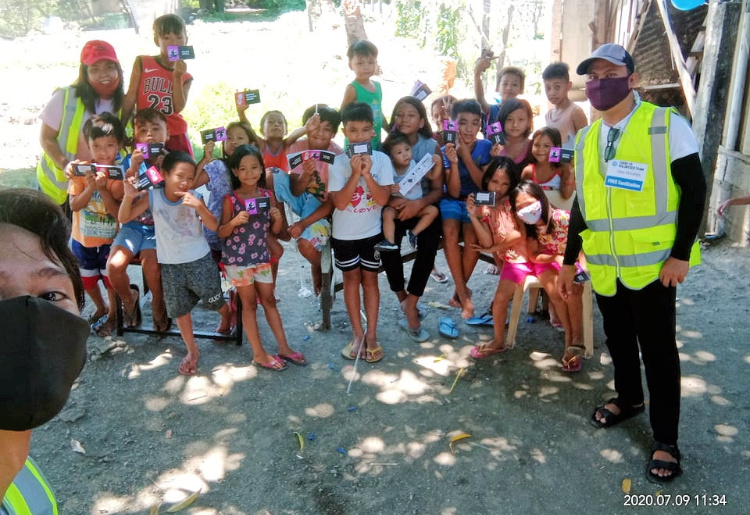 We maintain an account called: The Chick Missions Fund
Although we are not legally structured to give tax-deductible receipts, we definitely know how to get literature into missionaries' hands. If you would like to help extend the hands of a missionary with Chick tracts, please send your donation to:
Chick Missions Fund
Chick Publications
PO Box 3500
Ontario, CA 91761
100% of the funds you send to the Chick Mission Fund are used to ship literature to missionaries.
We receive requests frequently from missionaries who need your help.