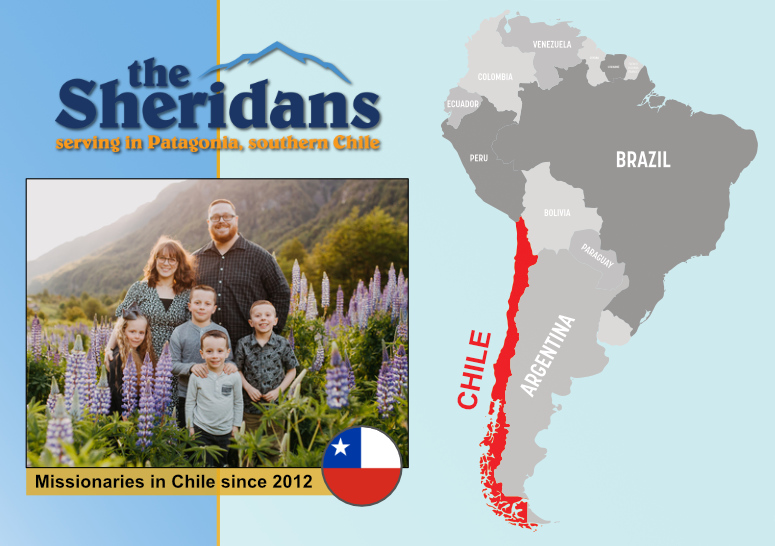 It is amazing when we stop and reflect back at what the Lord has done and to see how He has guided people into different areas of ministry. Usually, they are led to places where they can best use their God-given talent. Our Heavenly Father knows who will be good at what since He's the one giving the gifts!
One of those people was Kyle Sheridan who helped us for over 3 years, shipping out tracts at Chick Publications. One day, he answered a call to the mission field of Patagonia, southern Chile. Kyle and his future wife, Annie, attended Bible college together and, as Kyle tells it, he proposed to Annie multiple times, but she was not sure that it was God's will.
Since Annie remained apprehensive about becoming a missionary, Kyle decided to go ahead and move to Chile for a year as a single missionary. While he was there, Annie decided she wanted to marry him and serve God by his side.
In 2011, they were married, and God has given them four beautiful children. They currently serve the Lord in Chile where they started a church and each year their anniversary service grows; right now the church is averaging more than 80 people in attendance on Sunday mornings.
Many of you have been so generous to give to the Chick Mission Fund and Kyle and his ministry are one of the missionary groups who have received free Chick tracts to assist their ministry.
Below is an update about their ministry and several pictures from Chile. An entire classroom of children received the gospel with help from the Chick tract, "Charlie's Ants".
You'll discover how you are helping his family and church reach those in bondage to Roman Catholicism or godless secularism. Patagonia is the name of the southern end of South America. Besides Antarctica, nowhere else on earth is further south.
Kyle writes:
"Since I last wrote to you, we have seen many get baptized, including our daughter Abigail. We are thankful for those who are being saved, baptized, and trained in our ministry. This is fruit to your account.

"Carla, [one of the church members] was raised strictly Roman Catholic. When her husband got saved and baptized in our ministry, she was reluctant to begin a relationship with us. After years of preaching the gospel to her and praying for her salvation, she was saved and then followed the Lord in believers' baptism.

"Her husband is the principal of a local school, and she is a teacher. I was greatly encouraged on Sunday night when I saw her walking away with a stack of about 100 children's tracts. She said that she has been giving them to her students at school. She openly preaches the gospel to the kids in her classes and teaches them Christian songs. I am so encouraged by great women of faith like her.

"In addition to our soulwinning efforts throughout the week, the Coyhaique church has really taken to handing out gospel tracts. They are passing out hundreds of tracts each week."

Leaning on the everlasting arms,

Kyle Sheridan
Below Are Pictures from Carla's Classroom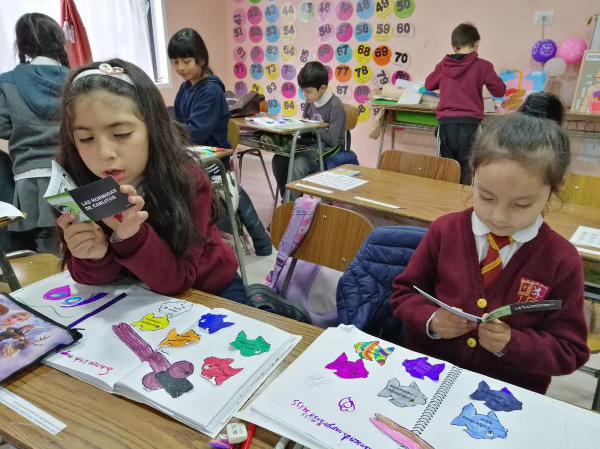 • • • • • •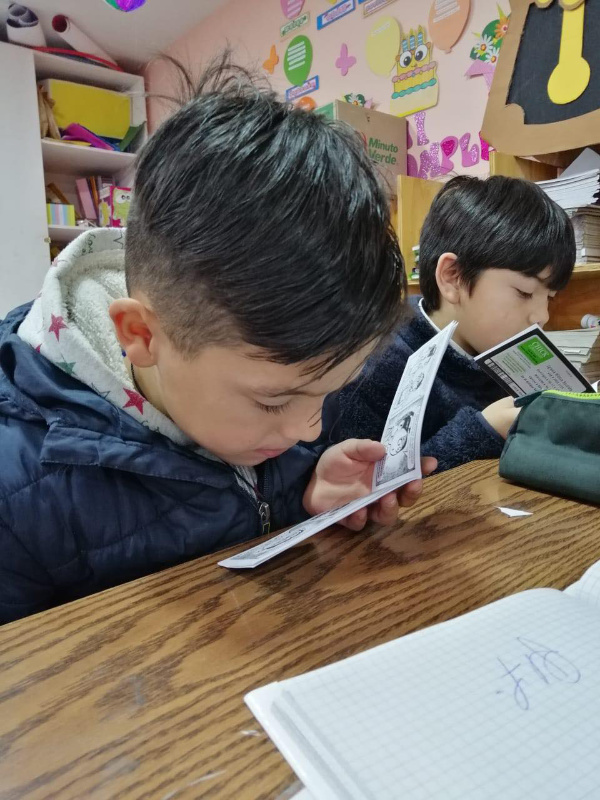 • • • • • •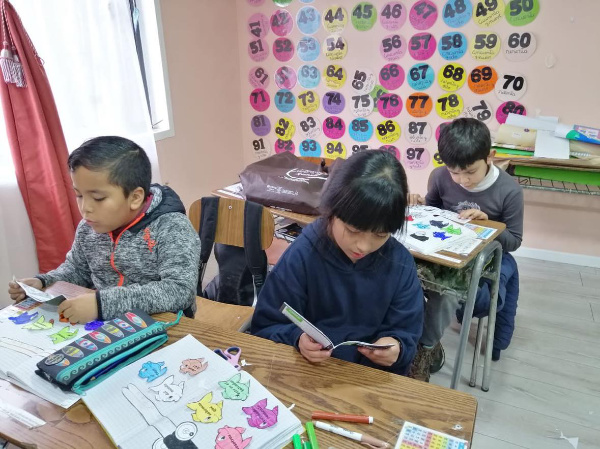 • • • • • •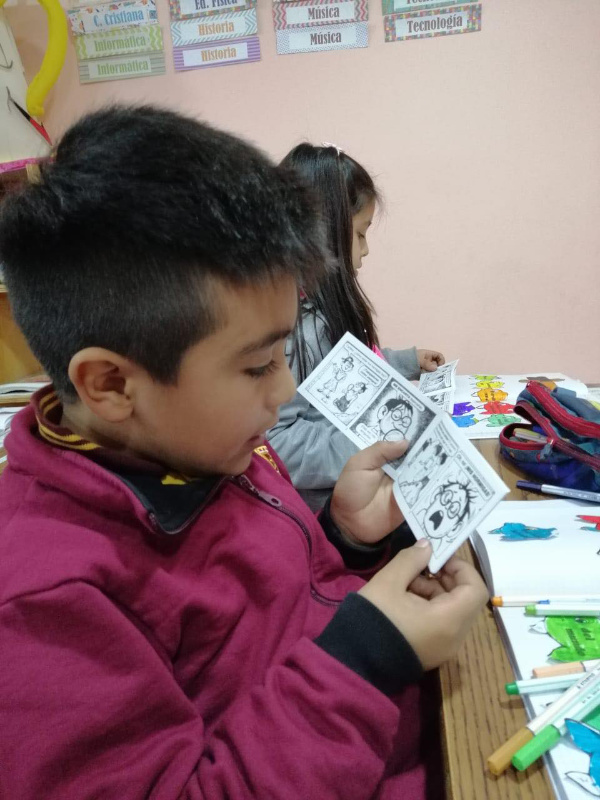 • • • • • •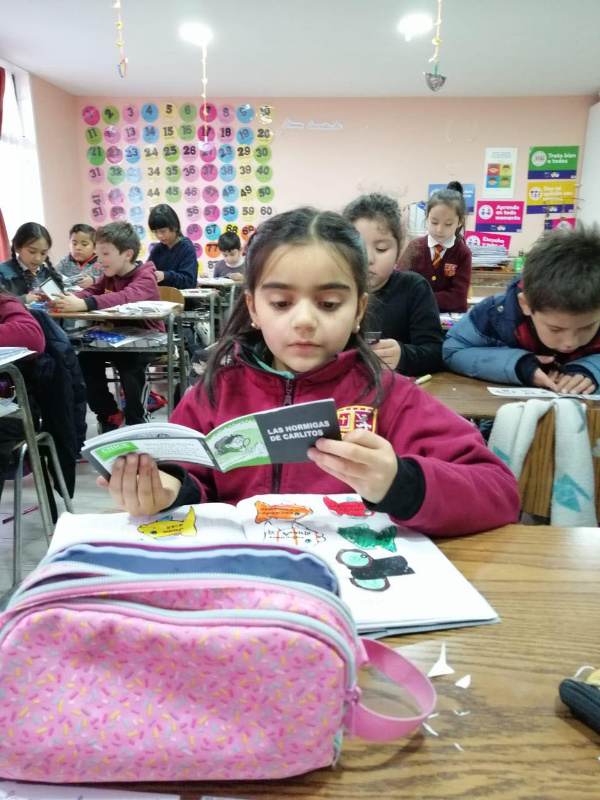 • • • • • •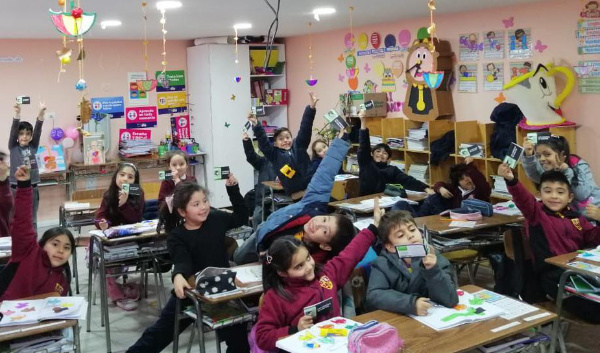 ---
Listen to Kyle Share about the Ministry in Chile
When the Sheridans arrived to the mission field in 2012, they started a church in the city of Coyhaique. The need is great. In their state alone (Aysén), there are over 30 cities, towns, and villages that do not have one church that believes in salvation by grace through faith in Jesus Christ.
---

More Mission Fund Projects Are on The Horizon
Missionaries contact us every week asking for Chick tracts to be the "attention getter" for their evangelism. We never know where the requests will come from, and we're so grateful to those who give so that we can keep saying "YES!" to missionaries' requests.
Would you consider helping extend the hand of missionaries by giving to the Mission Fund?
100% OF THE MONEY you send to the mission fund is used to provide free literature to missionaries.
Although we are not legally structured to give tax-deductible receipts, we definitely know how to get literature into missionaries' hands. If you would like to help extend the hands of a missionary with Chick tracts, please send your donation to:
Chick Missions Fund
Chick Publications
PO Box 3500
Ontario, CA 91761