"I have never met a more superstitious, fear-dominated people," writes Bert Craft, missionary in Oaxaca, Mexico. He had driven 14 hours into the mountains to one of the most primitive tribes on earth.
The Mixtecos spoke no Spanish, had no schools, no medical clinics or any government aid. Witch doctors were their only recourse against sickness and disease. "I have never prayed for more sick people and confronted so many demon-possessed deaf and dumb people in my life," Craft says.
The purpose of the trip was to help Francisco (shown in pictures below) return to his home tribe and witness to his people.
Francisco had left his village at age 14. He had run away after his mother died and he ended up working in Oaxaca. A local Christian began witnessing to him and he came to attend the local Bible-believing church.
After several months he expressed a desire to tell the "good news" to his people. Craft went with him, taking along a supply of Chick tracts which a church in the U.S. had donated to Craft`s mission.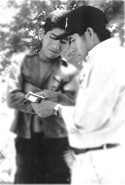 In one picture we see Francisco witnessing to his younger brother using the pictures in the Spanish version of This Was Your Life (Esta Fue Tu Vida). In the other, he is explaining to one of the elder members of the village the coming day of judgment and how to escape through Christ's sacrifice.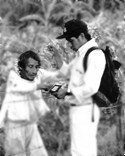 "Many times, unlike anything I have ever seen, horror and fear filled their faces as they contemplated the coming judgement and the realization of the teachings of Christ. Many said that the Catholics had never taught them these things," observed Craft. Craft and Francisco spent all day long discussing with crowds of people the power of God over sickness, demons, to forgive sin and give eternal life instead of eternal hell. They were invited to many homes to share the gospel. "We were inundated day and night and the power of God continued to open their simple minds and understanding. Many nights we did not get to bed till after 1 am," Craft said.
Craft believes that Francisco`s burden for his people could be the key to reaching them: "I really see the beginning of something amongst these people like I have not seen in other places... the possibility of a movement amongst an entire people group."
Francisco says that the simple tract called One Way (Un Camino in Spanish) will be excellent for his people and plans to return to his village with a supply of them in the near future.
Craft also plans to use the Spanish version of the King of Kings comic to help them understand God`s salvation plan from the beginning of time.