In spite of the general increase of prices worldwide, Christians continue to support the Chick Mission Fund and Chick tracts are going worldwide! Here are just a few of the things going on:
• • • • • •

Philippines
The first ocean container we sent on September 1, 2022, with over one million Chick tracts has been distributed to ministries all over this island nation. In the two pictures below, we see people from these churches and ministries handing out tracts to everyone they can find. How many pastors in the USA would love to see their people doing this, taking the Gospel to the streets? And it's happening because you gave!
This is happening in homes, on streets and buses all over this nation of over 7,000 islands. The tracts are being passed out by 65 different ministries and churches. Imagine the impact this will have on the next generation! Missionary Bruce Hunsaker reports he is getting many pictures of happy pastors with boxes of Chick tracts ready to help grow their churches.
Joshua Yun tells about a new opportunity in Manila: "One of our brethren in the Philippines has worked 10 years in the University and he has been granted permission to witness Christ and to distribute Chick tracts to students in the university. Moreover, by the grace of God, brother William had an opportunity to preach the Gospel on graduation day in front of hundreds of students."
PHOTO: Thousands of young people at the Kasanggayahan Festival had the gospel placed in their hands.
• • • • • •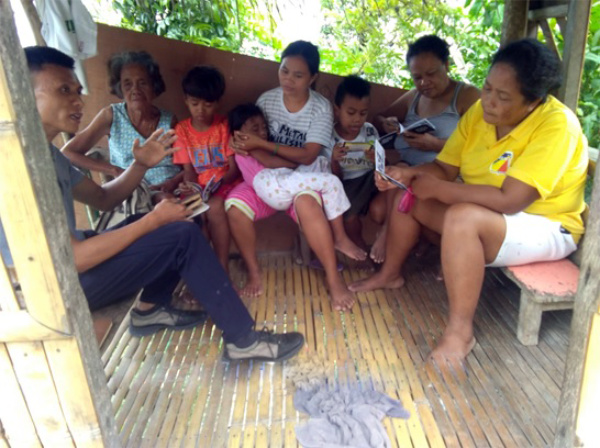 PHOTO: Pastor Artiaga sharing the gospel message with a multi-generational family.
• • • • • •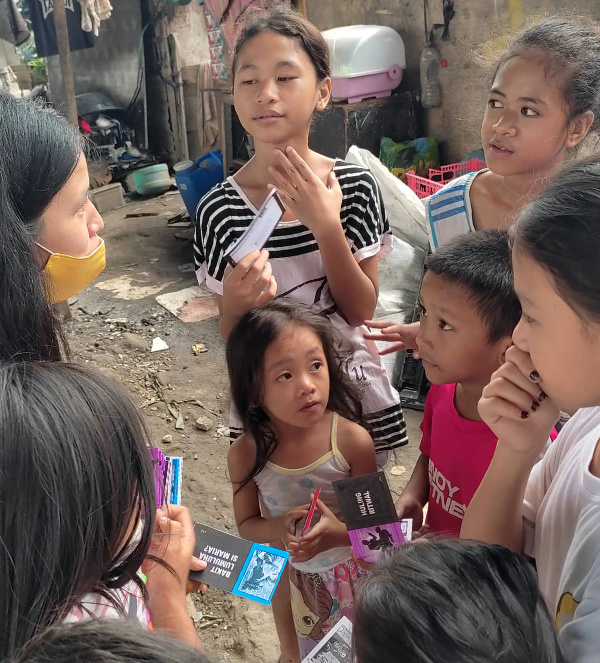 PHOTO: One of Joshua Yun's workers reaching Filipino children with Chick tracts.
• • • • • •

Guatemala
With the help of another ministry, we were able to transport 28,000 Chick tracts to Missionary James Wiseman in San Pedro Carchá, Guatemala. For several years, it has been very difficult to ship tracts to this missionary, but the Lord opened a door and now we are getting them in.
Wiseman wrote: "The This Was Your Life tract has been so very instrumental in the work we do. Each language version, the Spanish and the Kekchi have reached countless numbers of the unsaved. We have many, many groups of young people who are on fire for our Lord and are continuously going out on missions to evangelize."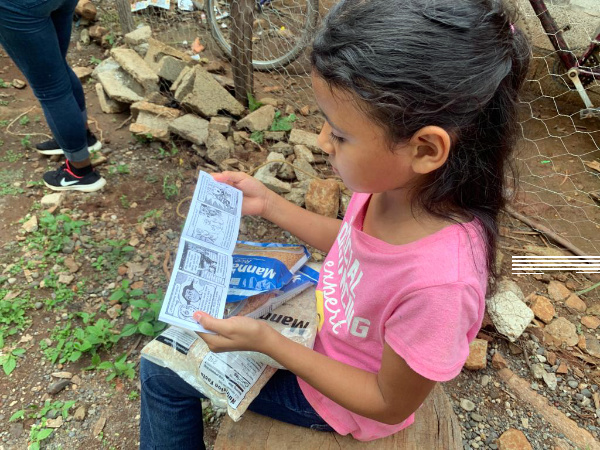 PHOTO: They sit down and read them right there, then their friends come and read them too.
• • • • • •

Guyana
Missionary Noel Shrivnauth planned a big outreach just before Christmas, and we were able to send him 20,000 Chick tracts in time for this outreach, plus another 20,000 for another one shortly after. This South American nation is unusual, in that the official language is English.
Robert and Adriana Woodard, new missionaries out of BIMI to Guyana, received 20,000 tracts to help them in church planting here.
Zakir Ibrahim, a former Muslim who now pastors a church just outside of Georgetown, the capital of Guyana, received 60,000 tracts for his big annual outreach in October.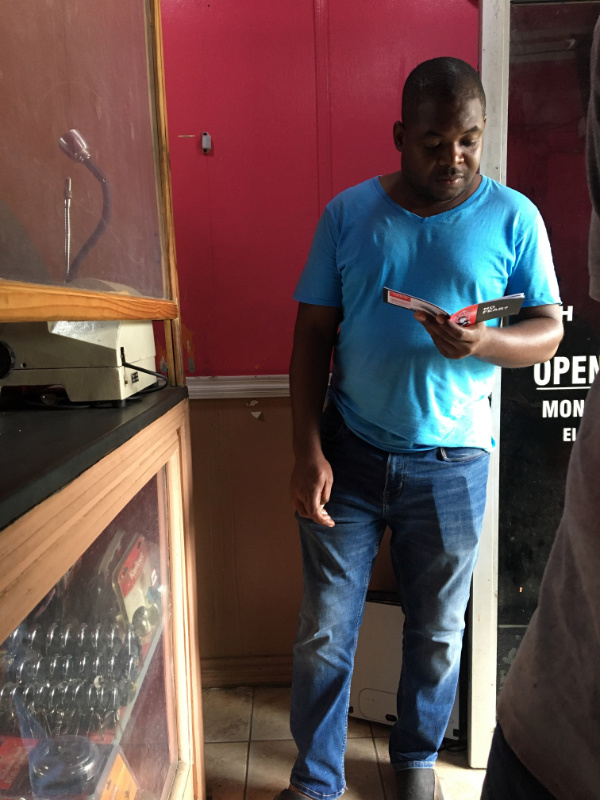 PHOTO: People stop in the stores and read!
• • • • • •
India
We have been able to restart ministry in India. During COVID, things pretty well shut down due to local restrictions, but we have been able to begin again. The Hindu government is so hostile to the Gospel, that shipping large quantities into the country has become too difficult. We are now printing right in the country to bypass the customs problems. Lordson Roch, who we have supported with tracts for years, is receiving his next 60,000 tracts through this new approach. There are over one billion people in India, and we are reaching out to them!
Roch shared this story with us: "I got a call from a man from Marcel whose name is Vikash, who introduced himself as a Hindu. He wanted to know if a Hindu comes to our church, and that if he wishes to come and join, how much money and what else does he have to bring along with him?
"To which I laughed and replied: 'Dude, all are welcome to our church: Hindus, Muslims, Catholics, Atheists, Christians, etc. You don't have to bring anything. All you need is faith in the Lord Jesus Christ.
"When you visit the witchcraft doctors or black magic fellows, you carry coconut, goat, chicken, lemons, incense, spices, money, etc. But when you come to Jesus Christ, He gives you the forgiveness of your sins, redemption from hell, He carries your burdens, He grants you peace and eternal life that NO ONE ELSE CAN GIVE.'"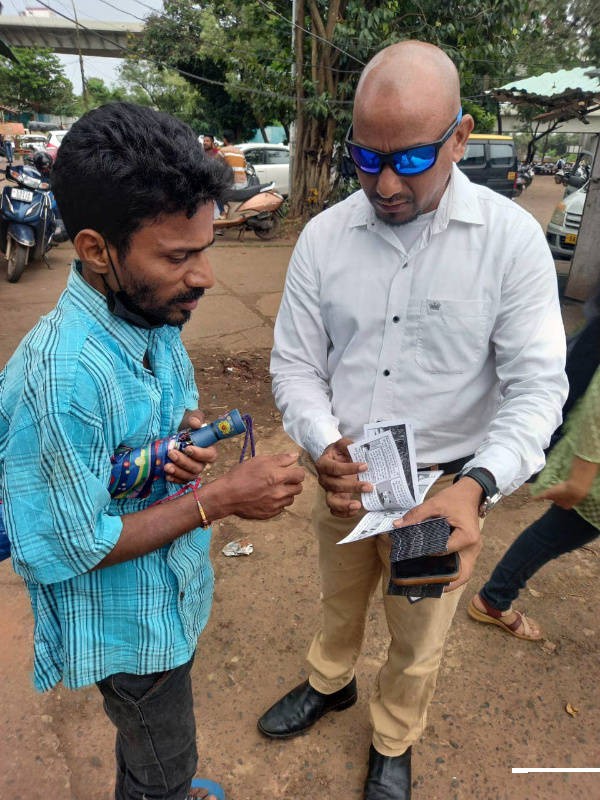 PHOTO: India is getting difficult, but this pastor won't quit.
• • • • • •

Vietnam
Missionary (name withheld), wrote: "The Chick tracts are a huge hit in Vietnam." He asked for another 5,000 Vietnamese tracts for his work in that country, along with another missionary. This is a difficult country, where missions are suppressed by the government. But that can't stop the spiritual hunger of the people, and God provides ways to get them in.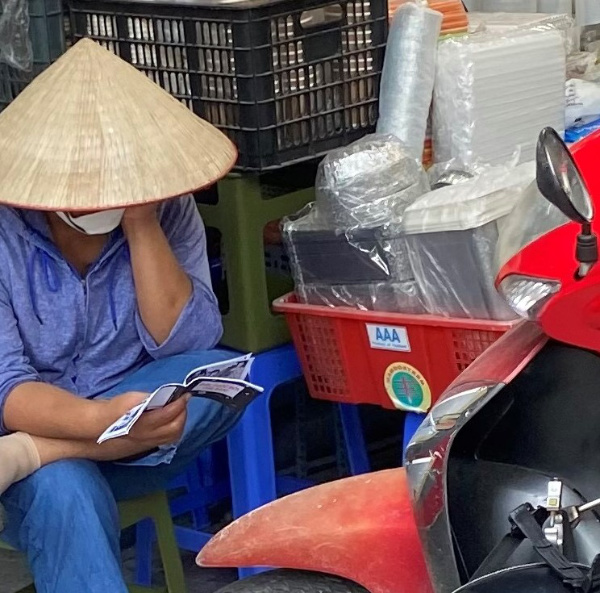 PHOTO: This street vendor stops what she is doing to read a Chick tract in her language.
• • • • • •

Italy
We were able to provide 20,000 Italian Superstar to Missionary Jamie Homan in time for him to use them during the lead-in to the World Soccer Games. They are a great hit in this soccer-crazed nation.

Zambia
Another 60,000 tracts are on the way to Missionary Mike Dobbins in Zambia.
Mexico
Missionary Mike Wallace wrote: "We have put the Chick tracts that were sent to us this summer to good use. We use Chick tracts as a church a few times a week amongst the millions of people here, in the open-air markets, door-to-door, etc. Almost every week we see people saved, largely due to the Chick tracts. Though Mexico City is a huge city with millions of people, and though people are busy, their culture is that they are very receptive and open to the gospel and take time to sit down and read the Chick tracts. Then, as we continue to minister in these areas, we can approach the same people after they have had time to read the tracts and often win them to Christ much easier because of the Chick tracts.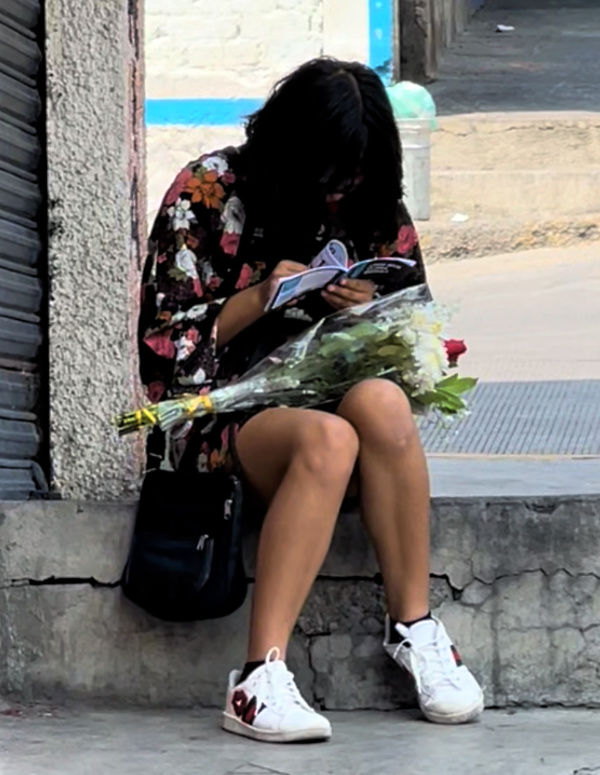 PHOTO: Chick tracts are making an impact all over Mexico.
• • • • • •
---
COMING UP
We are preparing a second container (1.3 million Chick tracts) for the Philippines. Funding is still short for this project. More than 90 ministries are waiting for ammunition!
Missionaries in Oaxaca, Mexico are asking for one million Chick tracts! They supply Bibles and tracts to 30 churches in their state, 12 churches in another state, and have been contacted by a group of 300 churches in Guatemala looking for gospel literature. An American transport ministry has offered to haul the literature all the way there for free. What will you help us do for them?
More missionaries keep asking for tracts!
• • • • • •
Many Christians want to provide Chick tracts to missionaries. . . We can help!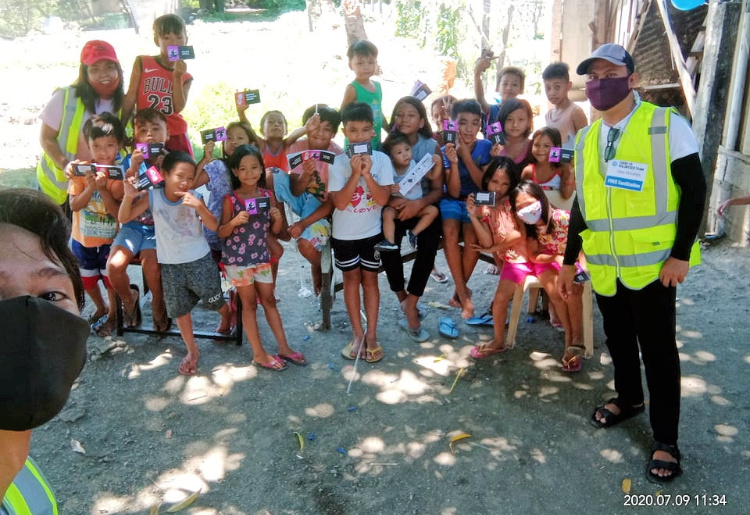 We maintain an account called: The Chick Missions Fund
Although we are not legally structured to give tax-deductible receipts, we definitely know how to get literature into missionaries' hands. If you would like to help extend the hands of a missionary with Chick tracts, please send your donation to:
Chick Missions Fund
Chick Publications
PO Box 3500
Ontario, CA 91761
100% of the funds you send to the Chick Mission Fund are used to ship literature to missionaries.
We receive requests frequently from missionaries who need your help.