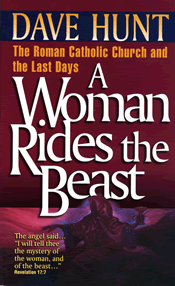 Excerpt from A Woman Rides the Beast
© 1994 by Dave Hunt
Reproduced by permission
"Virtually all attention these days is focused on the coming Antichrist —but he is only half the story. Many are amazed to discover in Revelation 17 that there is also another mysterious character at the heart of prophecy —a woman who rides the beast."
—Dave Hunt
The Bible says the whore of Revelation 17 is a city and gives remarkable clues to her identity. The following is one of a series of excerpts from A Woman Rides The Beast, by Dave Hunt. Here Hunt digs behind these clues which point to only one possibility: Rome and the Vatican. In this book, Hunt's thorough research is a must for anyone who would witness effectively to Roman Catholics.
---
From Chapter 6:
A City on Seven Hills
A woman rides the beast, and that woman is a city built on seven hills that reigns over the kings of the earth! Was ever in all of history such a statement made? John immediately equates the readers' acceptance of this revelation with "wisdom." We dare not pass over such a disclosure casually. It merits our careful and prayerful attention.
Here is no mystical or allegorical language but an unambiguous statement in plain words: "The woman ... is that great city." There is no justification for seeking some other hidden meaning. Yet books have been written and sermons preached insisting that "Mystery Babylon" is the United States.
That is clearly not the case, for the United States is a country, not a city. One might justifiably refer to the United States as Sodom, considering the honor now given to homosexuals, but it is definitely not the Babylon that John sees in this vision. The woman is a city.
Furthermore, she is a city built on seven hills. That specification eliminates ancient Babylon. Only one city has for more than 2000 years been known as the city on seven hills. That city is Rome.
The Catholic Encyclopedia states: "It is within the city of Rome, called the city of seven hills, that the entire area of Vatican State proper is now confined."
There are, of course, other cities, such as Rio de Janeiro, that were also built on seven hills. Therefore, John provides at least seven more characteristics to limit the identification to Rome alone. We will examine each one in detail in subsequent chapters. However, as a preview of where we are going, we will list them now and discuss each one briefly.
As we shall see, there is only one city on the earth which, in both historical and contemporary perspectives, passes every test John gives, including its identification as Mystery Babylon. That city is Rome, and more specifically, Vatican City.
Even Catholic apologist Karl Keating admits that Rome has long been known as Babylon. Keating claims that Peter's statement "The church here in Babylon ... sends you her greeting" (from I Peter 5:13) proves that Peter was writing from Rome.
He explains further: Babylon is a code word for Rome. It is used that way six times in the last book of the Bible [four of the six are in chapters 17 and 18] and in extrabiblical works such as Sibylling Oracles (5, 159f.), the Apocalypse of Baruch (ii, 1), and 4 Esdras (3: 1).
Eusebius Pamphilius, writing about 303, noted that "it is said that Peter's first epistle ... was composed at Rome itself; and that he himself indicates this, referring to the city figuratively as Babylon." As for "Mystery," that name imprinted on the woman's fore-head is the perfect designation for Vatican City.
Mystery is at the very heart of Roman Catholicism, from the words "Mysterium fide" pronounced at the alleged transformation of the bread and wine into the literal body and blood of Christ to the enigmatic apparitions of Mary around the world.
Every sacrament, from baptism to extreme unction, manifests the mysterious power which the faithful must believe the priests wield, but for which there is no visible evidence. Rome's new Catechism explains that liturgy "aims to initiate souls into the mystery of Christ (It is 'mystagogy.')" and that all of the Church's liturgy is "mystery."