Do you get challenged by others when using your King James Bible? 
Do you wish you had answers to those well-worn accusations against your KJV?
In early 2015, authors Jack McElroy and David W. Daniels felt a burden to help other Christians whose faith was being challenged.  They recorded two unrehearsed interviews where they answered many anti-KJV accusations to show you why you CAN trust just one Bible —The King James Version.   
The videos are available on YouTube, however, this printed book edition has much MORE information and documentation.
You'll get answers to the most common anti-KJV accusations:
Was King James a homosexual?
Where was the Bible before 1611?
How can we know God endorsed the KJV?
I got saved reading the NIV. How can you say it's no good?
Is it true no doctrines were changed in modern versions?  One change helped found the Jehovah's Witnesses.
Those who defend modern versions can no longer deny the changes publishers have made in their Bibles. They often fall back on several common accusations: "King James was gay" or "The KJV is too hard to understand." The answers to these questions and many more are in this book.
Don't be defenseless when someone attacks your KJV Bible.
Be ready with answers!
---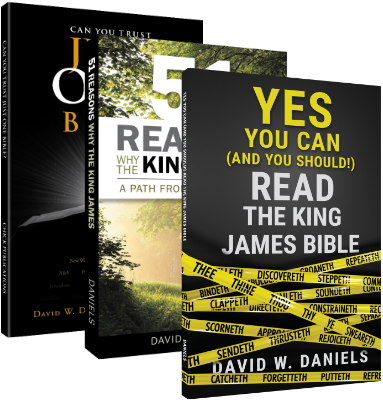 Trusting the KJV - 3 Book Bundle
This 3-book bundle contains David's most popular books on trusting the KJV. Build your faith in God's Word by learning why you can trust the KJV alone and why it is the most accurate translation in English. You save 30%! (Learn More)